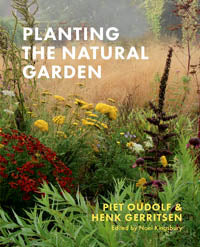 PLANTING THE NATURAL GARDEN by Piet Oudolf and Henk Gerritsen
Description
Fans of Piet Oudolf will revel in this updated edition of the book that helped launch his career.

When it was first published, Planting the Natural Garden—the first book by Piet Oufolf—heralded the start of the now immensely popular New Perennial Movement. Since then, Piet Oudolf has become one of the most iconic and groundbreaking designers of our time, responsible for some of the world's most important gardens, including the High Line, the Lurie Garden, the Battery, and Pottersfield. Fans of Piet Oudolf will delight in this revised edition of Planting the Natural Garden. Packed with plant information, new photography, and an introduction from Noel Kingsbury. It includes hundreds of eye-catching plant combinations, with an emphasis on the use of themed plantings that create mood and evoke emotion. Also included are plant lists and instructions for placing specific plants in particular habitats, as well as complete growing requirements.

Piet Oudolf is among the world's most innovative garden designers and a leading exponent of naturalistic planting, a style that takes inspiration from nature but employs artistic skill in creating planting schemes. Oudolf's extensive work over 30 years of practice includes public and private gardens all over the world. He is best known for his work on the High Line and Battery Park in New York, the Lurie Garden in Chicago's Millennium Park, and Potters Fields in London.
288 pages, 7 x 8 1/2 
Hard cover
full-color photographs
Timber Press
A must have for all the essentials of great gardens
A must have for all the essentials of great gardens